Pondering where to have your next adventurous vacation? Dubai could make you a perfect vacation with its abundant offerings, be it outstanding architecture or barren desert. It has a reputation for carving a strong impression on travelers' minds. Get your Dubai visa online and travel these 5 interesting attractions that would have your mind blown and jaw dropped-
Riding Camels & Camping in the Desert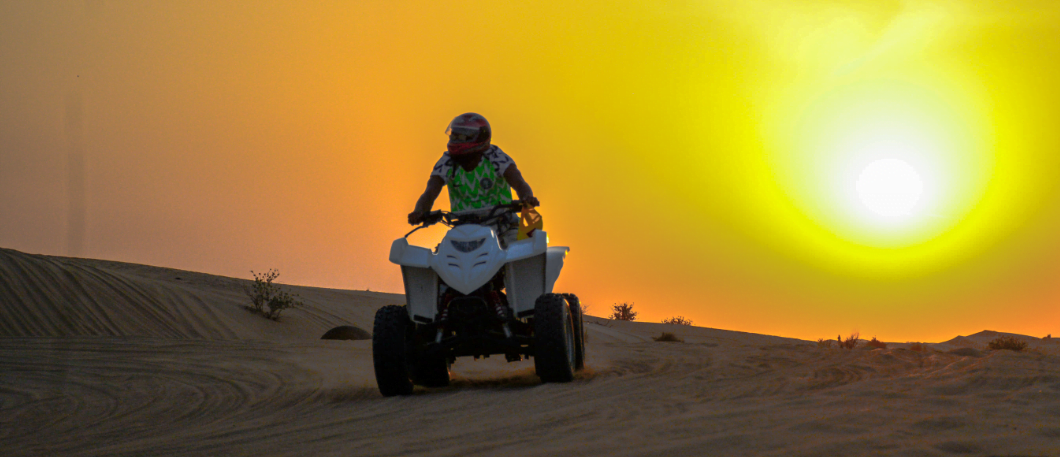 You would probably know Dubai for its extravagance and luxury. But venture about 45 minutes from the Downtown area and you would be gliding along the untamed land of desert. Hang out with camels, ski on the sand, bash the dunes in 4WD and ride the ATV.
It is adventurous, exhilarating, cultural and everything that you look for in a dynamic trip. Desert safari Dubai with dinner is an excellent choice amongst the array of varieties. This gives you a glimpse of the Bedouin lifestyle in a delightful camp with the delicious flavors of the sumptuous buffet.
Watching Sunset from Burj Khalifa
Burj Khalifa is the world's tallest freestanding structure, and gawking at the city's panoramic view is nothing less than spellbinding. The building has the highest observation deck anywhere on the earth and people flock from every corner to immerse in this sweeping view.
From the wild desert to the glittering skyscrapers to beautiful beaches- nothing is near to the charm of this spectacle. Capture the picture-perfect views of the sunset behind the skyline and upload a blockbuster snap on your Instagram.
Skiing in the Desert
What about a snow park in the middle of the desert city? Dubai is proud of its daring developments. And one of these is the Ski Dubai, nestled in the Mall of the Emirates. This is an indoor ski resort that works at a temperature of -1 degrees to 2 degrees Celsius. This is a full-fledged snow park and slope where you can ski, snowboard and zip line all year round.
Meet the waddling creatures snow penguins in their habitat, take a chairlift ride, and do tobogganing. This is an exciting playground for families to fight snowballs, build a snowman, and roll down the hills. And then have a cup of hot chocolate to feel the warmth.
Skydiving in Palm Jumeirah
Throw yourself from a helicopter to the clouds and dive above the world's largest man-made islands and tallest skyscrapers. All the adrenaline junkies must try this once because of its unequaled concept.
You could do skydiving in many cities, but marveling this unusual jewel from 13,000 ft, could only be possible in Dubai. Experience the thrill of freefall at over 120 miles per hour being securely harnessed to one of the trained and accomplished instructors. Take pictures, whoop with joy, and enjoy the breathtaking scenery.
Clinking drinks at Burj Al Arab
Do not miss out on discovering the 7-star hotel, the only species you will ever find on earth. It is the manifestation of the palatial Dubai and is a signature luxury destination.
There are several ways to have a look at its intricate design and applaud its magnificent interior, without booking an outrageously expensive room. Soar 200 meters above sea level to the 27th floor and sip eclectic drinks with a view at SkyView Bar. Have a High Tea or Afternoon Tea at Sahn Eddar, or book brunch at any of the Michelin-star restaurants, or pamper yourself at a fantastic world-class spa.
A hotel might not be a place for a guided tour, but since this is a landmark in a cutting-edge world of architecture, you might discover something spectacular.
Now you know that travelers speak so high of Dubai is because it has pushed the edge in innovation. Go ahead and tick off some amazingly unique experiences in the emirate.
Tell us how we can improve?