If you want to grow your social media followers from scratch, you must bring comprehensible effort into your social media feed. Curating solid content with catchy graphics can take you one step further and help refine your approach by making a real impact on your bottom line. When it comes to creating a strong social media presence, a little proactivity can be useful in the long run.
Memes and social media posts help to unite the bones of the digital world. Social media channels and pages create a platform to introduce new cultures and traditions, information from every corner of the world, and tons of photo editing skills. Even the business owners and brands rely on social media posts and memes to succeed in their business.
Whether you want to increase your brand visibility or interested in trolling, a meme can do multiple jobs. A successful meme is directly related to the number of tools used to give it an eye-catching look.
You can start elevating your brand or page right now by choosing the right kind of strategies at the right time. We are going to focus on the appearance of the social media posts and show you how to create an attractive social media post in different languages for your Instagram stories, a Facebook news feed, and much more.
Let's begin building a strong social media presence with a catchy background
How to create a post with a better background?
A beautiful and stunning background can set the tone of your social media feed post. Pave your path to success with beautiful background images where you are free to write text on photos. An attractive image works seamlessly with your Instagram or Facebook page and adds subtle content to get the most out of your Instagram and Twitter post.
What makes the best background image?
Design, energy, color scheme, text style, visual tone, and language. A well-designed background image can style your message and helps to improve the appeal and professionalism of Facebook and Instagram stories, even you can create a buster PowerPoint presentation with an amazing layout and textures.
Backgrounds usually cover a large area, it means they have a huge influence on the appearance of your social media post. But that doesn't mean that the background needed to be overwhelmed with colors, stickers, frames, and text. With the best choice of colors, words, and frames, you can increase the page engagement. Carefully choose your background image as it reflects not only your identity but your brands too. If you are not satisfied with the background templates, you always have the option to upload your own images from the smartphone gallery. Uploading images gives a great path to goes to the hearts. Targeting the emotions with a sophisticated background may get you closer to your fans and followers.
Stay in touch with audiences' emotion with the language they speak
Have you heard this tip before? It's a great idea to build a lasting influence with the language your audience can speak, listen, and read. Communicating in a foreign language with your followers and fans can pave a path toward understanding.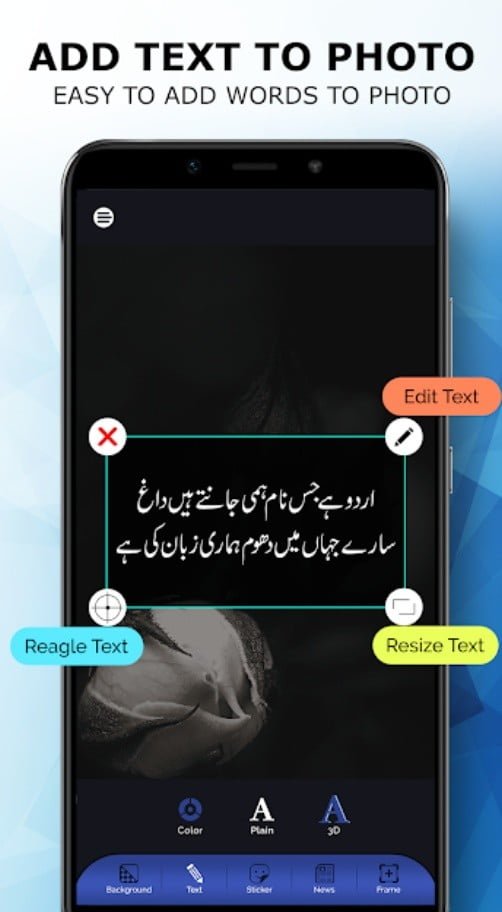 Studies from around the world show that using the native language for communication can influence your marketing campaign. Researches also show that people are less emotionally connected with the pages they follow on Instagram or Facebook. And many times, out of irritation of not understanding the purpose of the meme or post, many unfollow the social media pages.
An android post writing app that allows users to create memes and social media posts in the language they want can help to break the cultural and social differences. Not only a page owner or a meme creator can take advantage of this feature but a poet too. Many Urdu poets use social media platforms to share their Urdu poetry. Opportunities are arising for the poets to share their thoughts in a different language by using different Urdu post design apps. Not only in Urdu, but poets can also share poems in different languages too, such as Arabic, Persian, Pashto, Tamil, Japanese, and many other languages.
Make your sticker a storyteller
Attractive and engaging content can aid you in getting an edge over your competitors. To begin your social media marketing campaign, you can hire a sticker to tell the story. Stickers are no doubt the best storyteller. Many times people found stickers best to express their emotions. Strong infographics are shared a lot on social media channels, if you are not able to create a high res visual post, you can use stickers to spread the message.
You must have seen the type of sticker meme creators and brands are using these days to get engaged with the customers. Take an idea and make stickers your real marketing partner. The marketing campaigns and meme creators can also use occasional stickers for every occasion. Spread the message with Christmas stickers, love stickers, Valentine's Day stickers, Islamic stickers, floral stickers, and much more. Let's not leave any option of increasing the visual identity of your social media page and brand.
Get a killer social media presence with news header
Would you like to be the owner of your own news channel? Get the bulletin headline frames to break the news. Engage your audience with some humorous content, give them something that brings a smile to their faces. Create funny news, troll friends or celebrities, and use bulletin frames of some famous news channels to break the news in your style.
Make your audiences laugh with funny news. It would be great if you achieve your marketing goals by making a closer bond with your customers using fun as a tool. Humorous and funny ideas include sharing fake political news, announcing holidays, sharing a meme or a comic, celebrating different events, posting truth or dare questions, and asking different silly questions.
Sign up for fame with beautiful frames
Give a reason to your audiences to become your followers and then customers by giving them something to admire. Choose beautiful floral and simple frames to give life to your words. A rich content enclosed in a beautiful frame may help to achieve your social media marketing goals. A good marketer and an enthusiastic memer never lose a single chance to get fame.
There are so many ways by which you can increase customer engagement on Instagram posts, Facebook posts, and Twitter posts. For some people, strong content is enough to create a strong bonding, according to researches a solid content with beautiful backgrounds or frames and readable fonts can together take your brand's identity and page engagement to another level.
As we all know, the holiday season is approaching, and many things need to be done before Christmas. And being a marketer and a meme creator, it is very important to give your audiences warm Christmas greetings. With heart-touching beautiful Christmas frames, you can share Christmas greetings to anyone in the world.
Many more ideas can be used to create a strong social media presence. From creating rich content to decorating the content, everything matters. Let your audiences and followers feel loved and special by sharing some valuable quotes, Urdu Shayari, news, jokes, memes, funny images, and much more. Give them something that keeps them stick to your page.
Tell us how we can improve?