Art is an expression of an artist; it is the creativeness and imagination of the artist put forward in a painting or a sculpture. Representing an artist's work in a gallery of the world is an excellent thing for the artist. It gives the person a way of expressing their ideas, creations and brings them to a broader audience. However, getting a slot in an art gallery is not an easy task.
It is vital to get the creations noticed to earn a spot in the gallery. It takes a lot of effort and time for an artist to reach a coveted gallery. Many art galleries regularly put forward an open call for artists to submit their creations for the exhibition. The gallery then shortlists the creations and picks the best few among them to give them a chance to exhibit. As such, the majority of the artists get left out.
Artists should master the skill of selling their work and earning their spot. With digital marketing on a boom, artists can also take its help to get noticed. It is also essential for artists to maintain communication and a cordial relationship with galleries to get potential buyers and to get featured in exhibitions.
Focus on Work
Art galleries look for unique creations that engage buyers and sell out soon. Artists who look for exhibiting in galleries should focus on making their work creative and unique. It should attract the audience at the first look and transform them into a buyer. When a creation gets exhibited in a gallery, there is a commission on the sales. The creations should be able to cover that trade-off commission of the artist and also earn them an appreciation and recognition in the art world.
Socialize with Art Community
An art community is where artists, curators, gallery owners and art enthusiasts connect to share ideas, thoughts and updates on the art world. Always be an active member of the art community. Socialize with the people to be in the eye of the curator and gallery owners. It is essential to introduce oneself to them and share creations so that the next time they hold an exhibition, your creations come to their mind.
The community is also a place where art galleries continuously look for new artists to showcase their creations and give them a platform. Stay active there! The art community also gives a chance to connect with fellow artists and learn more about the craft. Build connections with fellow artists and support their work.
Digital Platform
The world is going digital, and every business and trade has its online presence. This digital space applies for artists too! Having an online presence will help the artist to share their work and market themselves more efficiently. While it is not possible to travel everywhere and share your creations, an online presence will do this faster.
Nowadays, there are many social media platforms like Facebook, Instagram and Twitter, where you can build your network and connections. These sites also offer facilities wherein you can sell your creations and establish your brand in the community. Connect with different art communities, online art galleries and artists to develop and showcase your craft. Also, ensure you create your domain and website to give a personalized touch to your brand and increase the market value.
Research Submission Instructions
Often artists do not pay heed to the submission instructions in the art galleries and send in on their applications, only to get rejected. Always go through the submission guidelines. Each gallery and exhibition is different, and so also the guidelines are different for all. Check out the theme of the exhibition, the requirements and the measurements of work specified. Create your craft according to these guidelines, and your work will never be rejected. If you are submitting a physical specimen of your work, ensure they are carefully packed. Include every detail of the gallery address to avoid losing the specimen on transit.
Practice Artistry Value
The artistry value is the artistry quality and ability of the artist. An artist must have an individual artistry value. Build an identification style of work and develop it to something extraordinary and unique. Having a personification and style is a great selling point, and it is essential to leave an impression.
Always carry business cards wherever you go, one can never know whom and where you connect with people of the art community. Once the connection with an art gallery establishes, make sure to not rush them in with constant calls and emails. Present yourself at the right time, and they will surely notice you!
Dos and Don'ts
Always have patience. Art galleries get a mountain of submissions and take time to shortlist the best. Don't ask for representation boldly, as it never creates a good impression. Research about the gallery you are interested in and send in submissions wisely.
Don't push for exhibiting your work to an art gallery. Introduce yourself as an artist and show your creations, but never be pushy about pitching an exhibition slot.
Always provide detailed information about your work, experiences and learning curve when sending in applications to a gallery online. Create a crisp but attractive portfolio to share with galleries and curators. Don't include any unnecessary details in the portfolio.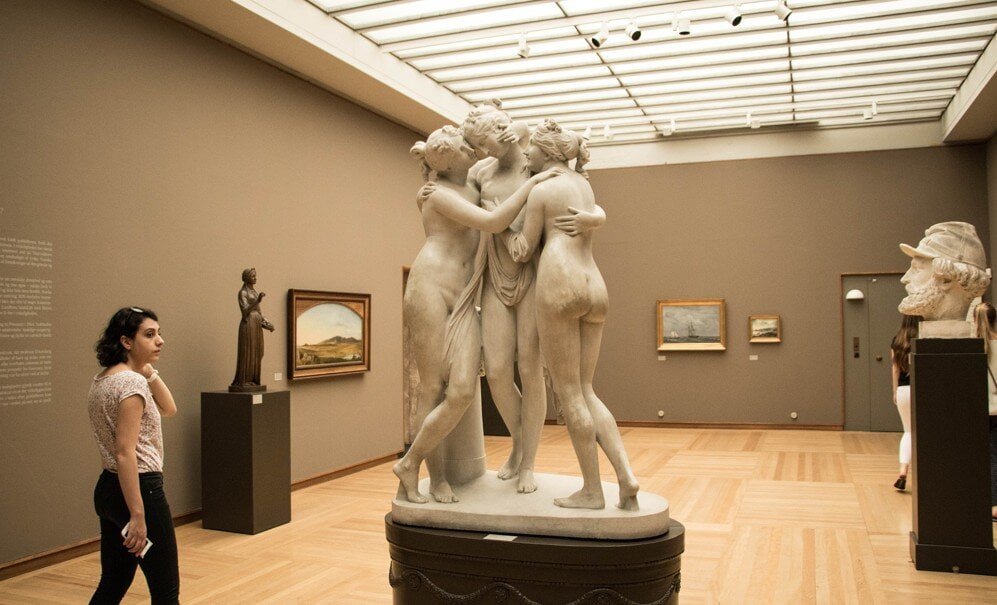 Getting a slot in an art gallery exhibition is priceless and exciting for an artist. It is more the happiness for a budding artist who is looking for a platform to showcase their talent. Always treasure creations, improve them and promote them online regularly to book the next best slot in an art gallery.