Whether you are doing a small remodeling project or massive building construction, the process can cost you a lot if you do not plan. Aside from all the stresses that you may obtain due to the influx of overall cost, several factors may cause hassles and inconveniences, as well.
This is why it is essential to consider all the affecting variables in the project. Keep in mind that unforeseen problems may still arise despite all the preparations you have had from the beginning. If you do not take this into consideration at all, you may likely end up with an inefficient and unreliable outcome.
You do not want this to happen in any of your real estate projects. Aside from all the resources, safety and security are other matters of concern.
So, if you want to avoid any such stresses and inconvenience, here are the seven best and effective ways that you should do:
Choose or Hire the Right Contractor
Choosing and hiring the right contractor is the first step to reduce and likely avoid all hassles that may arise in building construction. While you may be knowledgeable in the field, the right contractor knows all the ins and outs of every project because this is part of their jobs.
If you want to save costs, you should place importance on this area. Not hiring a professional service may save you money in the beginning but, if or when problems arise, it may only cause you to shell out much bigger and significant amounts of money.
As much as you want to save costs and resources, you have to set a realistic budget for the entire project. The bigger the scope is, the higher the price.
Aside from listing all the estimates of the essentials, your overall budget should also include a separate amount for the "unexpected costs." This will help you have an allowance if something happens that you did not see happening in the first place.
Part of the budget setting is the warranties, payment modes, terms, and timelines. These factors all play an essential role.
Purchase Quality Materials
Purchasing materials of the best and finest quality is a must. This should not be doubted or something that to be second-guessing about because this has a direct impact on safety and security.
Poor quality materials may lead to accidents and injuries. This also increases the risks of damages and danger.
While you may save costs in buying low to mid-quality materials, this will only cost you more in the long run. Keep in mind that when you buy quality products, you are investing for long-term purposes.
Choose the Correct Paint Finish
The correct finishing paint will seal the deal of the project. It is worth noting that a proper finish is crucial, according to experts from a platform that tackles topics with keywords like "cash for homes Arizona."
You should finish bathrooms and laundry rooms with a gloss or semi-gloss coat because these areas have high moisture percentages. Such coating helps easily distinguish trims and molds.
Flat paints work best for ceilings. As for walls, a satin finish is fitting.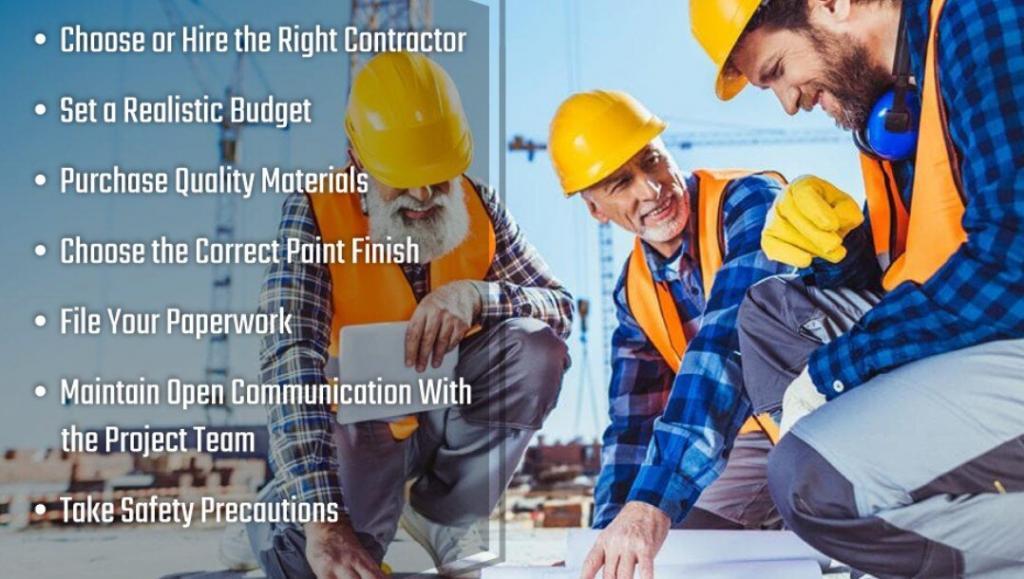 Another effective way to avoid the stresses and hassles of remodeling or construction is to file the necessary papers and documents at the right time. You will need permits and clearances to be able to execute the entire project.
Without such paperwork, it will disrupt your timetable and may cost you more. Aside from money, this may also require additional resources.
Maintain Open Communication with the Project Team
Establishing an effective relationship and communication with the project team is also essential. This will help you decrease all the unnecessary risks of experiencing hassles and challenges amid the project.
Regular contact with the key people is a must because this will help you oversee the entirety of the plan, outline, and venture. The more you are immersed in it, the more you have control and authority over the unforeseeable events along the way.
It need not be an hour-to-hour case of communication or contact with the project team. A simple update every day or every week will already do.
In every construction project, safety measures and precautions are on top of the priority list. Everyone in the field should be aware and knowledgeable of this, as well as all the measures set in place.
This is why there is always a safety team and toolbox meetings every week in most construction projects. This will ensure that safety and security are always met at all times.
If you hire a professional service or a contractor, they have existing measures and precautions designed solely for safety and security of every aspect of a project. You may discuss this with them before you begin to check whether their systems are in par with yours.
Final Thoughts
Construction mistakes and mishaps always occur in every project. Despite all the effective planning and management, little problems and inconveniences may still happen in the overall process.
But, to avoid the bigger problems that lie behind these things, these seven tips and ways may help. Although they may not totally eradicate all the potential problems by 100 percent, they will definitely reduce all the risks.
Tell us how we can improve?