We all read that a dazzling web design and some fantastic SEO (Search Engine Optimization) practice will surely make your website a success.

True. But as they say, truth has many layers. As a matter of fact, we conceive that SEO and web design are two different aspects of a website. Indeed, it is.

However, they overlap each other. To understand this overlap, we will look at one of the principles of web designing and that is accessibility.

Cube InfoTech, a well-known company in web design Austin shares some valuable insights on designing a website, so that people know more about the digital world.

What is Accessibility?
As per definition, Accessibility is the practice to make a website usable for as many people as possible.

Traditionally, since the 1950s, accessibility has more or less been about people with disabilities. However, today its definition has widened.

That is to say, everyone who is an online user, should be able to easily engage on a website.

So, whether someone has a disability or has a temporary limited ability for both, ordering products from your online store should be super easy as it is for a normal person.

Similarly, it also takes care of those who are stuck by some or the other situational disability, like carrying a baby, etc.

Experts explain the types of Disability
Web designers make websites friendly for as many people as possible. To make it easier to work, they classify disabilities into three sections.

Permanent Disability
A physical or mental disability that hinders your day-to-day life. For example, People with cognitive or mobile impairments.

Temporary Disability
This is when you have a disability like a fracture or a cataract, etc. which shall get fine within a few days.

Situation Disability
Thirdly, there are times when you are not able to interact online. Like handling a kid or being at a restaurant, etc.

To better understand diversity in our abilities, we used the below image sourced from Microsoft to understand how some of us are affected due to limited abilities.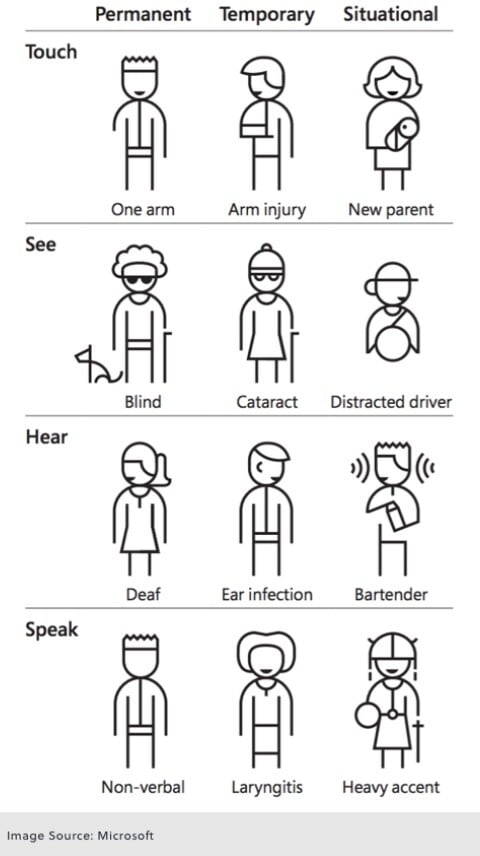 But above all, all these three sections of people use internet services. That's why engaging each one of them is crucial to have more conversions on your website. And a professional Toronto web design company should be very well aware of it.

How Accessibility Impacts a Website?
⦁ Firstly, if your website does care to be accessible to every kind of user, it fails to reach out to the maximum number of online users.
⦁ Secondly, your business will be unable to convey your brand's message to all kinds of users. Which will put an impact on how people perceive your brand.
⦁ Thirdly, due to the lack of the above two points, people fail to consider your website as useful. Thus, your engagement and conversions take a hit.
⦁ Lastly, people bounce to other sites as they find that your website is unable to solve their issues.
⦁ Thereby, Google as a search engine finds your website irrelevant and thus your rankings drop on search engines. Which is bad for a business.

Final Note
We all as human beings look forward to and work to make the online world as friendly as the physical world. Which is why, taking care of the needs of everyone is a vital factor if you want to make a mark in the online world.
You may also want to read,
Tell us how we can improve?