Undoubtedly, the best chat messenger out there for global smartphone users is WhatsApp. It is there in the app stores for nearly a decade and clocked more than five billion downloads.
Now, what makes WhatsApp so popular? It is not just hyped because it stands out among all its competitors.
Chat, call, share media, Transfer WhatsApp Photos From iPhone to PC, etc. can happen over WhatsApp.
Despite having a few downsides, WhatsApp continues to be the most downloaded app both in iPhone and Android.
If you have bought an iPhone recently, you will see that WhatsApp is included among the pre-downloaded necessary applications. It has associated with our lives to such an extent that we cannot imagine passing a day without using WhatsApp.
Most of us use WhatsApp daily but are still unaware of the hidden features. How can you exercise maximum benefit from using this application? What are the coolest features that people don't talk about much?
If you want answers to these FAQs, you are at the right place.
Privacy
It's relieving to know that WhatsApp encompasses the best privacy features you can ever ask for. It is quite hard for the best hackers to hack your WhatsApp account.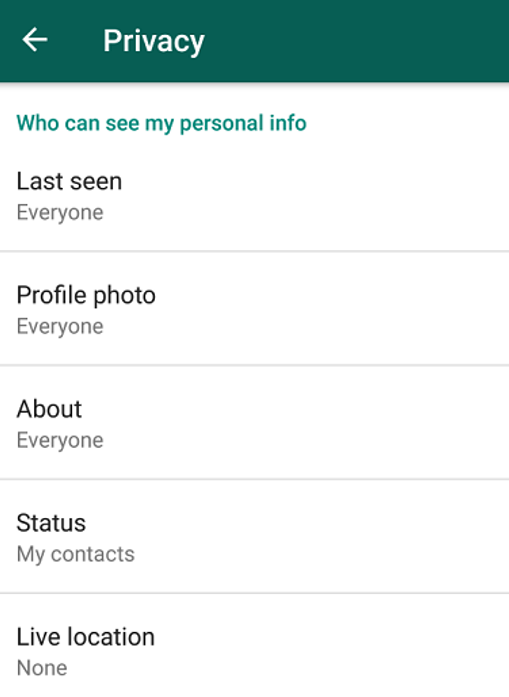 WhatsApp allows you to chat with members who:
are saved in your contact list
have WhatsApp installed in their phones
So unless two people exchange contact numbers, they won't be able to chat on WhatsApp.
But wait, that's not all the privacy WhatsApp offers.
You can upload stories in WhatsApp from your iPhone, but do you know that you can restrict their visibility?
You heard me right. You can choose whom to show your stories and whom not to.
Head over to the status section in the WhatsApp iPhone app and click on privacy on the top left.
Choose between the three options and configure them as you wish
Exit and your settings will be saved until changed again.
These privacy features can also be applied to your last seen and read receipts.
In the account section of settings, there is a section called "Privacy" where you will get the above options.
Isn't that a great feature?
iCloud Backup
Since most of us have potentially important information laying in our WhatsApp chats, it will be a daunting thing to lose it. But it's not in our control if our iPhone malfunctions.
What if only WhatsApp crashes and you need to download it again? Is the thought of losing all your messages, documents, and data terrifying you?
You better not be, because WhatsApp for iPhone ensures that the data is safely stored in iCloud. iCloud is Apple's cloud storage.
In WhatsApp settings, iPhone users have the option to back up their WhatsApp data in iCloud. They can select a frequency of Data backup.
Users also get the option to save media files during the backup.
These backups take place over a WiFi and get stored in the iCloud drive. When WhatsApp is downloaded again, it prompts the user to restore the saved messages from the back.
Quick Actions
It often happens that we are in the middle of an important job, and one of our hands is busy. Accessing the full range of features in WhatsApp using one-hand can be difficult.
There is a solution since WhatsApp for iPhone has some tricks for quick actions. We can either do a 3D touch in iOS versions 10-12 or do a Haptic touch in iOS version 13.
These features have an option where we 3D press or Haptic press the WhatsApp icon for a list of options. These include the following
a search bar to search within WhatsApp
New Chat
Camera
Scan QR code
Share App
The same 3D press or Haptic press can be done on a chat for a sneak peek into the last few messages, mark as read or unread, reply, etc.
These hidden tricks for the iPhone come in really handy when you get to know the process.
Transferring Photos To PC
WhatsApp supports a web application called WhatsApp Web with which you can seamlessly connect your WhatsApp for iPhone to the web version. This allows you to have WhatsApp, up and running, in two devices at the same time.
But, that's not the only feature we are talking about. WhatsApp for the web makes it easy to Transfer WhatsApp Photos From iPhone to PC in some simple steps.
If you have photos shared with a particular chat in your WhatsApp mobile, open the chat on your desktop. You will see that the images will appear, and there is a download button.
Click on the download button, and you will have the image on your PC. In this way, you can Transfer WhatsApp Photos From iPhone to PC, and vice versa, without using any cable.
Formatting Texts
This is a cool WhatsApp trick for iPhone users. They can play around with the font style while typing a text.
The text can be in bold, italics, strikethrough, and typewriter format. But do you know how you format the text?
Bold – To get the bold font type, the user needs to keep the text within two asterisks without putting any space between them. e.g. *text*
Italics – To get the italics font type, the user needs to keep the text within two underscores without putting any space between them. e.g. _text_
Strikethrough – To get the strikethrough font type, the user needs to keep the text within two tildes without putting any space between them. e.g. ~text~
Monospace – To get the monospace or typewriter font type, the user needs to keep the text within three single quotes without putting any space between them. e.g. "'text"'
Quick Reply From Notifications
Once you receive a message on your WhatsApp in iPhone, you don't need to open your app to reply. You can directly reply from the notification panel.
Slide down the notification panel while using the iPhone to reply directly.
You can also reply from notifications in your lock screen. Press and hold the new message and let it pop up on your screen with the keyboard.
Prevent WhatsApp Images From Saving in Camera Roll
The iPhone has no expandable storage. So we have to prevent our storage from being filled up with unwanted images and videos.
These days we receive endless pictures and videos over WhatsApp. But WhatsApp for iPhone gives us an option to select which files we want to save to our Photos.
Hover to settings -> chats -> save to camera roll and toggle off the selection.
After this, pictures and videos will not be saved in Camera Roll. To do that explicitly, long press a photo that you receive and click on save to Photos.
Wrap Up
So from being clueless about the hidden secrets of WhatsApp in iPhone, you now know seven incredible tricks that will surely give you an edge above the others.
As the iPhone software upgrades in future, we will unveil newer secrets and tips about using WhatsApp.
Till then, you all should enjoy using these features.
Related posts:
Tell us how we can improve?