We all find ourselves tangled in the arduous task of rewriting content at some point. The demand for fresh, engaging material is never-ending, yet the hours in a day remain the same. Paraphrasing or rewriting tools make the task easy for writers in this situation.
One such tool is Paraphrasingtool.ai. It is designed to alleviate these rewriting burdens.
Now, you might wonder, why should you take my word for it? I've spent over five years mastering the writing skills that both Google and readers love. 
As a certified professional writer, I've delved into hundreds of tools. Paraphrasingtool.ai intrigued me with its unique blend of features and effectiveness.
This review will be based on my personal experience of using this tool.
So, dear reader, join me on this insightful journey, and let's explore what Paraphrasingtool.ai has to offer.
What is Paraphrasingtool.ai? A Brief Overview
Paraphrasingtool.ai is a cutting-edge writing assistant tool to rephrase existing content. it offers a multitude of features to enhance creativity and maintain writing integrity. 
Users can leverage eight distinct paraphrasing modes, each designed for a specific purpose. You can simplify writing, remove plagiarism, or enhance academic text.
The tool also boasts exclusive features like audio and image-to-text paraphrasing, an in-built plagiarism checker, and extensive customization options for synonyms and tone.
Easy to use and accessible to both novices and professionals, Paraphrasingtool.ai stands as a comprehensive solution for writers from every niche.
Paraphrasingtool.ai: A Thorough Insight into Its Features
This section will delve into two main aspects of the tool: the paraphrasing modes and the additional features that set it apart from others.
Paraphrasing modes deserve separate attention, as they shape the core experience for the users.
On the other hand, the additional features provide enrichment to the tool and make it worth every penny.
Paraphrasing modes
Free Rewriter: Basic and default mode that rephrases text at no cost.
Text Improver: Simplifies writing style and fixes sentence structure for free.
Near Human: Offers free human-level rewriting.
Plagiarism Remover: Makes content original and ensures writing integrity (Premium).
Creative Mode: Enhances creativity and inspires unique writing (Premium).
Academic Mode: Specifically improves academic writing for research purposes (Premium).
Quill Text: Streamlines writing with clear, concise language (Premium).
Sentence Rephraser: Premium feature for rephrasing each sentence.
Additional Features That Make the Tool Worth It
5 Alternate Sentences
This feature offers flexibility in rewriting. Click on a spun sentence, and you'll have five different ways to express the same thought. It ensures that your content remains engaging and diverse.
Tone Customization
Whether you need it casual for a friendly blog post or formal for a research paper, this feature allows you to switch between different tones effortlessly.
Audio Paraphrasing
A unique innovation in the industry, Paraphrasingtool.ai is the only platform offering audio paraphrasing. This can transform audio content into fresh text, opening new doors for content creators.
Image-to-Text Paraphrasing
Another pioneering feature that allows users to convert images with text into editable and paraphrasable content. It's the first of its kind and offers immense possibilities for researchers and writers alike.
Built-in Plagiarism Checker
Integrity in writing is the top priority. This tool ensures it. You can check your rephrased content for plagiarism instantly, making sure that your writing maintains its originality.
AI Text Editor
This paraphrasing tool is a complete text editor that facilitates fine-tuning your content. With one-click features, you can translate, summarize, add bullets, and more to perfect your text.
Summary Generation
Particularly useful for students and content writers, this feature enables the summarization of spun text. It helps in creating concise summaries for assignments, articles, or social media sharing.
Synonym-Changing Feature
You can add a personal touch to your writing. Click on any paraphrased words to choose from different synonyms, understanding the meaning of complex words through instant definitions.
Web Browsing for Research
It also offers to conduct research without leaving the platform. Search, insert, or summarize articles directly into the editor for paraphrasing, making your research and rewriting process seamless and efficient.
You can use the Ask Anything feature to get answers to any questions with proper references.
How Does the Tool Work? A Step-by-Step Guide
Here's a discussion of how the tool works based on my personal experience using Paraphrasingtool.ai:
Upon my first interaction with the tool, there was the option to choose from 8 distinct paraphrasing modes. For my project, I opted for the "Near Human" mode, as I wanted the rewritten text to have a natural, human-like feel.
I then pasted the specific text I wanted to paraphrase into the text box. The interface was clean and intuitive, making this step a breeze.
I chose a formal tone to match the professional nature of my content. 
With just a click of a button, Paraphrasingtool.ai got to work.
The results were impressive, yet I needed to make a few tweaks to make it perfect. Using the integrated editing features, I changed a few sentences and synonyms to align them more closely with my voice. The synonym-changing feature allowed me to select alternative words with ease.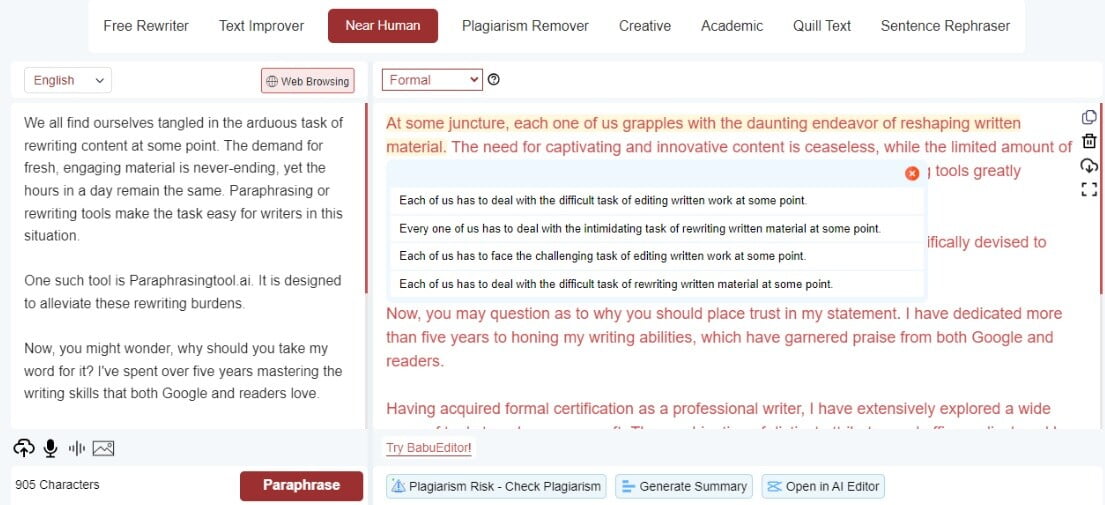 Finally, used the built-in plagiarism checker to ensure that the rewritten text was unique. The process was quick and gave me 100%  originality of my work.
Paraphrasingtool.ai: Pros and Cons
Advantages
Offers 8 different paraphrasing modes tailored to various writing needs.

Enables adjustment of the tone to match the specific audience.

Audio and image-to-text paraphrasing.

Integrated plagiarism checker to ensure content integrity.

The AI text editor allows fine-tuning of content with one-click features.

Includes web browsing and the "Ask Anything" feature for streamlined research.

Supports paraphrasing in 20+ languages other than English.
Disadvantages
May require some time to understand all the features and how to use them effectively.
Paraphrasingtool.ai Pricing Plans
The following table shows the three price plans which I found quite economical.
| | | | |
| --- | --- | --- | --- |
| Pricing Plan | Features | Monthly Price | Annual Price |
| Solo Text Generation Plan | Text generation for up to 25,000 words (monthly) and 60,000 words (annual); Includes essays, stories, and blogs | $15 | $144 |
| Solo Paraphrasing Tool Plan | Paraphrasing tool for unlimited words | $7 | $60  |
| All-in-one Bundle Tools Plan | Paraphrasing tool for unlimited words; Plagiarism checker up to 5,000 words (monthly) and 60,000 words (annual); Text generation up to 50,000 words (monthly) and 600,000 words (annual); Free AI content detector; Free AI content bypasser tool | $20 | Solo Paraphrasing Tool Plan |
Is Paraphrasingtool.ai Worth It? Review Verdict
After an extensive examination, I can say that Paraphrasingtool.ai stands out as a valuable asset for writers, students, and professionals. 
It provides a unique blend of features that not only simplify but also enrich the writing process.
While it has its minor shortcomings, the overall functionality and affordability make it a worthy investment.
The question isn't just whether Paraphrasingtool.ai is good; it's about how it can make your writing better. Give it a try, and you might just find it to be the ally you've been seeking in your writing journey.
You may also want to read,