With the rise of the internet, information is easily accessible, and often, this convenience can inadvertently lead to plagiarism, whether intentional or not.
Here Plagiarismchecker.ai claims to be the most accurate and fast plagiarism checker.
But with dozens of plagiarism detection tools saturating the market, is Plagiarismchecker.ai a reliable option or just another name in the crowd?
In this comprehensive review, we delve deep into the features, functionality, accuracy, and overall reliability of Plagiarismchecker.ai in 2023.
Dive in and discover if it's a plagiarism-checking tool you can trust.
Plagiarismchecker.ai Overview: What Is It, And Who Is It For
At its core, Plagiarismchecker.ai is an AI-powered plagiarism checker that scans text to find copied content.
Imagine you've penned an essay, research paper, or blog post. Before hitting publish, you'd want to ensure it's truly unique. That's where this tool steps in.
It spots any matching content by sifting through a vast sea of online documents, books, blogs, and more. But it doesn't stop there. If a match is found, it'll show you exactly where it's from and how close it is to the original.
So, who's it for? Whether you're a student ensuring your essay is one of a kind, a teacher checking assignments, or a writer verifying your latest piece, Plagiarismchecker.ai is your buddy. It's simple, fast, and doesn't require any tech-savvy knowledge.
In the vast world of online content, where originality is gold, Plagiarismchecker.ai helps you wear that crown with confidence. It's like having a trusty friend, always ready to give your work a quick once-over before showcasing it to the world.
Pros And Cons Of Plagiarismchecker.ai
Naturally, there were aspects of Plagiarismchecker.ai that appealed to me, while others failed to make a positive impression.
Let's examine a few advantages and disadvantages of using Plagiarismchecker.ai.
Pros:
User-friendly interface.
Quick sign-up process
Comprehensive detection mechanisms.
Quick and precise results
Supports up to 25,000 words per check.
Multilingual support
Remove plagiarism feature
Percentage results
Downloadable report
Cons:
It does not offer a free trial
Requires an active internet connection for functionality.
No upload files and exclude URL features.
How Much Does Plagiarismchecker.ai Cost?
Plagiarismchecker.ai offers transparent pricing to fit different needs:
Starter Package (Recommended for students)
Monthly Limit: 10,000 words
Features: Primarily designed for students who have occasional checking needs.
Price: $5/month
Professional Package (Recommended for writers)
Monthly Limit: 100,000 words
Features: Tailored for writers or professionals who produce content more frequently and require extensive checking.
Price: $10/month
Both packages come equipped with AI technology for accurate detection, deep plagiarism checking for thorough results, a detailed plagiarism report to pinpoint exact matches, and support for multiple languages, ensuring versatile usage.
Simply select the package that aligns best with your needs and get started on ensuring your content's originality!
Getting Started: Signing Up & Usage
Starting with Plagiarismchecker.ai is a straightforward process. Here's your step-by-step guide to getting on board and making the most out of this handy tool.
If you're already a premium user?
Log In: If you've already subscribed to a premium plan, simply head to the site and log in using your credentials.
Start Using: Once logged in, you're all set to begin checking your content for plagiarism.
If you're new to Plagiarismchecker.ai?
You do not have a premium account yet? Here's how to sign up:
Choose 'Sign Up': On the homepage, look for the 'Sign Up' option.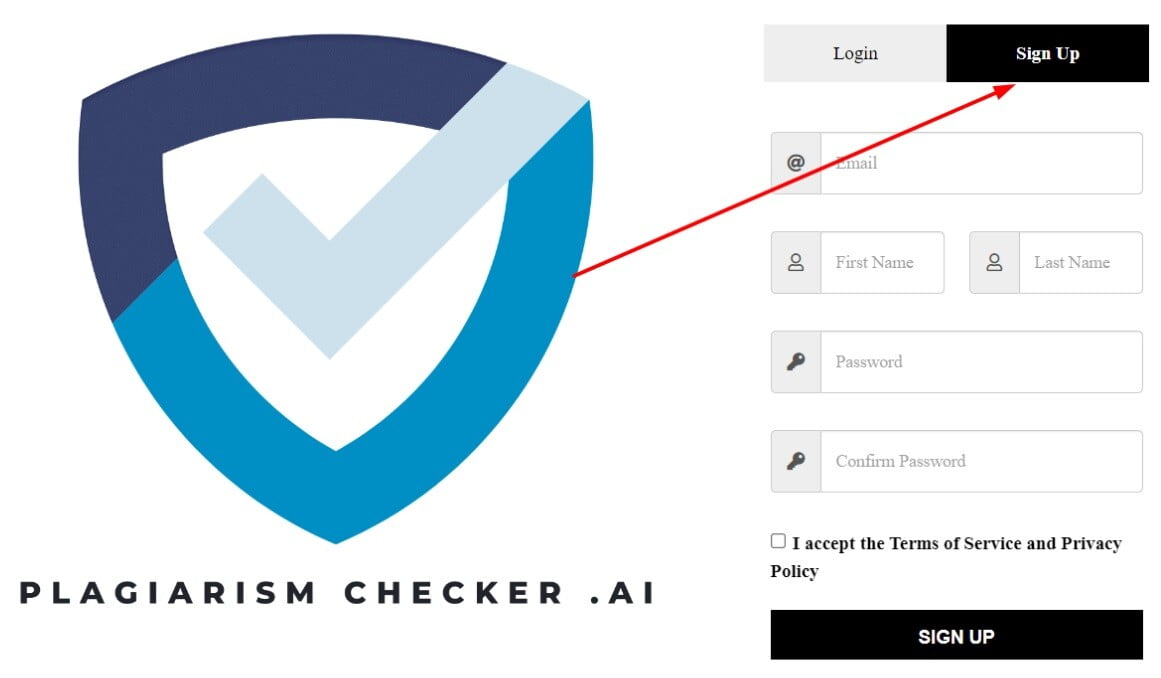 Register: Fill in the required fields with your email, and name, and choose a secure password.
Pick a Pricing Plan: After registering, you'll be prompted to select a pricing plan that best fits your needs, either the Starter or Professional package.
Start Using: Once your payment is processed, you can begin utilizing the tool.
A Step-by-Step Guide to use the tool
Copy and Paste Your Content: Once you're on the dashboard, you'll find an option to either paste your text or upload a document.
Initiate the Scan: After pasting, click on the 'Check Plagiarism' button.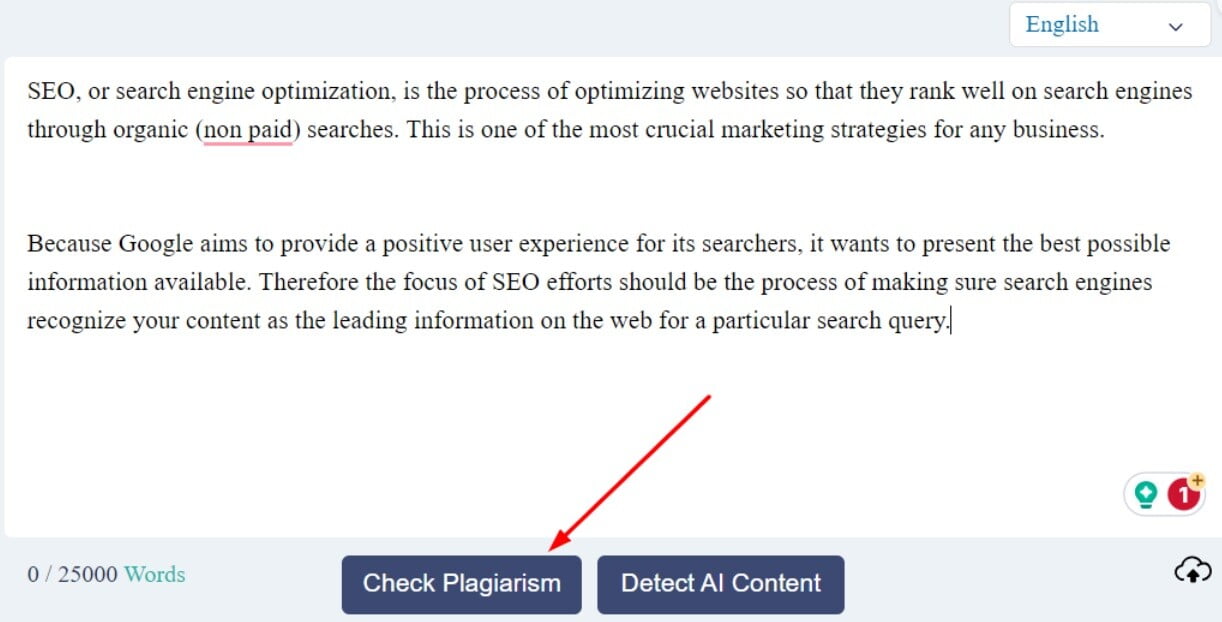 Wait for Results: The tool will then scan your content against its vast database. This process may take a few seconds to a couple of minutes, depending on the length of your text.
Interpret the Results: Here's how you can interpret the results:
Highlighted Text: Sections of your content that match sources from the database will be highlighted.
Source Links: Beside or beneath the highlighted sections, you'll see links to the original sources where the content matches.
Plagiarism Percentage: The tool will also provide a percentage indicating how much of your content is plagiarized.
Paraphrase: If any section of your content is highlighted, consider rephrasing it to make it unique.
Cite the Source: If you've borrowed information, ensure you provide appropriate citations.
Download the Report: For record-keeping or to share with someone, you can download the detailed plagiarism report in PDF format.
Remember, the purpose of this tool is not just to catch plagiarized content but to help you create authentic and original work. Use the feedback constructively and keep your content's integrity intact!
Plagiarismchecker.ai Review: Features
When it comes to online plagiarism checkers, the market is bursting with options. But what sets Plagiarismchecker.ai apart are its distinctive features, tailored to cater to a vast array of users. Here's a comprehensive look at the standout features of this tool:
AI-Powered Technology:
Utilizing advanced AI, Plagiarismchecker.ai doesn't merely skim the surface. Instead, it delves deep into each sentence, ensuring even the slightest resemblance is flagged, leading to accurate results.
Extensive Database Search:
Your content is matched against a colossal database, which includes 1B+ online documents, 15M+ online databases, eBooks, blogs, archives, and even video transcripts. Such a wide-ranging search ensures no stone is left unturned.
Detailed Plagiarism Report:
Not just a mere percentage, but the tool gives a comprehensive report. Every matched phrase or sentence is highlighted with accompanying links to the source. This granularity allows users to pinpoint exactly where changes are needed.
Versatile Language Support:
Not confined to just English, this tool boasts support for multiple languages, opening doors for non-English writers and researchers to ensure their content's originality.
Large Word Count Capacity:
Whether you're checking a brief article or a hefty research paper, Plagiarismchecker.ai has you covered. With capacity ranging from 10,000 words in the Starter package to a whopping 100,000 words in the Professional tier, there's ample flexibility.
User-Friendly Interface:
A clutter-free, intuitive dashboard ensures that even those not so tech-savvy can easily navigate and use the tool without a hitch.
Auto Paraphrasing:
Stumbled upon plagiarized content in your work? No worries! The built-in auto paraphrasing tool can help you reword plagiarized content that helps you avoid plagiarism.
Safe and Secure:
Your content's privacy is paramount. Plagiarismchecker.ai guarantees that submitted work isn't stored in any secret repository. What you check stays with you, ensuring peace of mind.
Versatile Usage:
From students to teachers, from writers to researchers, this tool caters to a wide audience. Special features like the free plagiarism checker for students, or the detailed checker for research papers, ensure everyone's needs are addressed.
How Accurate Is Plagiarismchecker.ai?
Speaking from personal experience, I put Plagiarismchecker.ai to the test using an array of content.
I took snippets from well-known articles, blogs, and academic papers, and the results were impressive.
For nearly every piece of content I plugged in, Plagiarismchecker.ai quickly identified the source, highlighting the matching sections and providing direct links to where the content was initially published.
The accuracy was commendable.
Moreover, I wanted to see if Plagiarismchecker.ai would falsely flag any part of genuinely original content.
To my satisfaction, the tool performed exceptionally well. In most cases, my content was deemed 100% original, as it should be.
In a few instances, some generic phrases were highlighted (after all, there are only so many ways to say certain things), but these were easily distinguishable from actual plagiarism.
Thus, from my hands-on experience, I can vouch for its precision, making it an essential tool for anyone serious about content integrity.
Final Verdict On Plagiarismchecker.ai
From my extensive exploration and testing, I found Plagiarismchecker.ai to not just be another face in the crowd. It shines in multiple facets such as it's not easily fooled by tweaked sentences and does an admirable job of flagging content that may otherwise slip through the cracks.
Also, the user-friendly interface and intuitive design make it accessible for users across all technical competencies.
Additionally, the expansive database search, detailed reporting, and AI-powered checks ensure a thorough examination of your content.
However, no product is without its shortcomings. The lack of a free trial and missing features like file uploads or URL exclusions can deter some potential users. But when weighed against the benefits, these drawbacks appear minimal.
In conclusion, if you're looking for a dependable ally in maintaining the integrity of your content, Plagiarismchecker.ai is a solid choice.
You may also want to read,