Recently, I have been to Bali for a few days. Bali is an island and province of Indonesia. This island is home to most of Indonesia's Hindu minority. Bali is a popular tourist destination. It is known for its highly developed arts, including traditional and modern dance, sculpture, painting, leather, metal working and music. Bali is part of the Coral Triangle, the area with the highest biodiversity of marine species.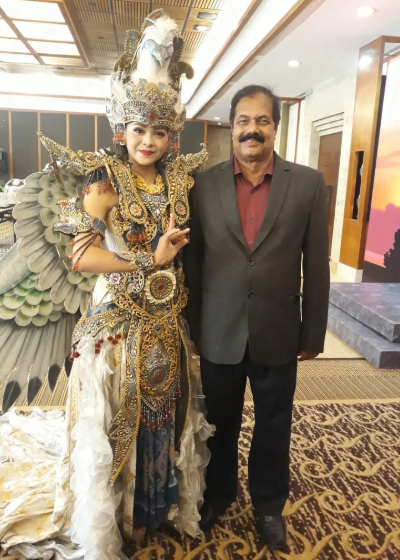 When we were taken to a famous temple there, the guide told us about a Doctor in Bali. He cures all sick people coming to him. No medicine is given. Healing take place. He listens to sick people and make them laugh. They become happy. He said, we have positive energy and negative energy in our body. When we are happy, positive energy comes to play and we remain healthy. When we are unhappy, negative energy comes to play and we become sick. He made us laugh on the way. Moreover, he sang a lot of Hindi songs. We all sang together with the guide.
Bali people are very familiar with the epics Ramayana and Mahabharata . The major religion in Bali is Hinduism. People there are well behaved. That is why many people from different parts of the world love to visit Bali.
Shopping
Virtually everybody comes to Bali to shop, and even if shopping wasn't the ultimate aim, you will still end up with fascinating and irresistible buys. Bali shopping introduces you to a treasure trove of fine art and handicrafts, antique and semi-antique furniture, paintings, delicately carved jewelry, wood and stone carvings, masks, woven and dyed fabrics.
Bargaining in markets, shops and art galleries, is normal practice and getting a good price depends largely on one's bargaining prowess. As bargaining forms a large part of the Bali shopping fun, remember to bring along some cash, as not all places accept credit cards. The best shops in Bali open late, usually 10:00 – 23:00.
Custom Regulations
Custom allows you to bring in, duty free, 200 cigarettes, 50 cigars, or 100 grams of tobacco; cameras and film; 1 liter of alcohol; and perfume clearly intended for personal use. Forbidden are guns, weapons, narcotics, pornography, televisions, fresh fruit, Chinese medicine, and printed matter with Chinese characters. Plants might also be confiscated.
On arrival at the airport all bags are screened for alcohol. Anyone caught carrying alcohol over their duty free allowance will find it either confiscated or will have to pay a high duty penalty. Rates are not fixed and can be negotiated.
Tell us how we can improve?