Before getting into the topic, some statistics are worthy of mentioning here. In 2018, the revenue generation of mobile apps had crossed 365 billion in the US only. Most importantly, the total revenues generated through mobile apps are forecasted to generate over 935 billion. Talking about the world, the total number of mobile users is expected to be around 7 billion in the year 2021.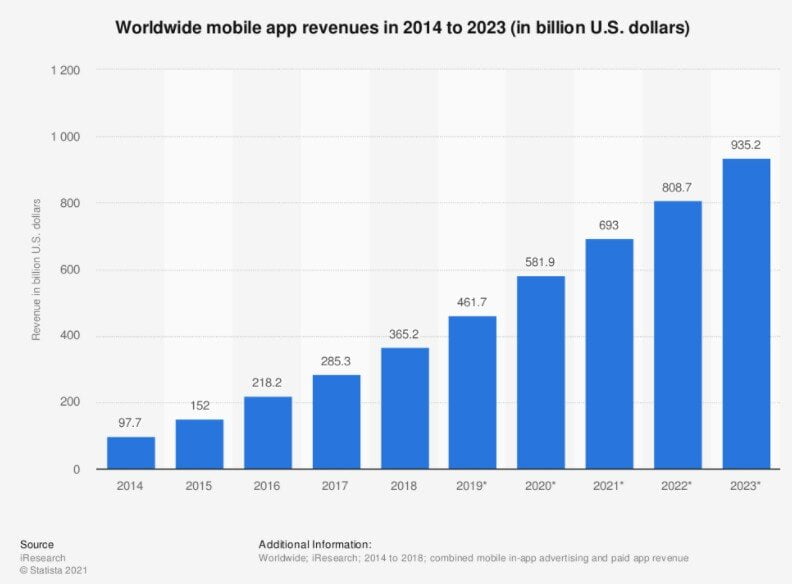 Expends over the app store had crossed 143 billion dollars in 2020, a 20 percent increase compared to past years. All these numbers very well depict the incredible phase that the mobile app development companies are going through.
Now, coming to the significance of retail stores, 62 percent of users have purchased online stores using their mobile in the last six months. Interestingly, 80 percent of people use their smartphones even inside a physical store to check products, compare prices, and find alternative stores. In short, mobile apps have significance for both online and offline retail stores.
What Makes Things Significant for Retail Stores?
The question comes, what those factors are making mobile apps so significant for modern-day buyers. The changing customer behavior is one of the foremost reasons. But, it's undeniably true at the same time that there is incredible scope for the store owners to utilize the creativities in the mobile app arena. There are many stores to leverage the incredible scope. Well, it's not all over yet; the following are some of the incredibly innovative dimensions that retail store owners should explore.
1. Easy Registration
Modern-day buyers are a little more impatient, specifically over the web. On such occasions, a lengthy registration process is nothing but to bid for customer rejection. Hence, there are incredible ways available in the mobile app domain that must be explored to keep the registration process short. There are smart methods that can be helpful in terms of completing registration at least the amount of data required, yet assuring utmost safety.
2. Add All Payment Methods
When it comes to retail mobile app development, providing multiple payment options is a must. The chances of customer retention become higher with more payment options. But more than that, it's the localization factor that makes it more important to include multiple payment options. Adding multiple payment options gives a good impression as well.
3. Integrate Review Platforms
Awareness among modern-day people is way lot higher than what used to be a few years past. They do check reviews and ratings of products before taking any decision. Every retailer would want that no customer is lost simply due to negative reviews. In this context, mobile apps have the smart option of integrating review platforms like Yelp or popular social media platforms like Facebook.
4. Wish Lists
Customers simply love seeing wish lists over their platforms. This strategy works irrespective of the segment, be it about fashion, accessories, or gifts. The best part is that such wish lists encourage people to share as well, at the same time buying. These wish lists get easily bookmarked, which increases the chances of coming back of the buyer.
5. Quick Checkout
It's always important to enabling the user to quickly checking out. The order-making process should be simple as possible, requiring the least number of information. In this context, mobile apps come up with the option of saving the address of the concerned visitor or buyer to help him/her save time.
6. Boosting Sales Through Push Notifications
Push notifications do matter a lot in terms of the success of retail stores. The best part, these notifications boost the engagement level upon alerting customers about promotions, discounts, etc. Through the process, at the same time boosting the sales, it also helps in generating more profit.
7. Providing Offline Access
Modern-day users often love switching between the applications and even want to ensure that the app functions well without any connectivity. App functioning offline helps users save data, which is also a prime reason behind the popularity of this feature. Undoubtedly, providing this offline access can be challenging considering that it demands the pre-caching of a whole range of data. The cost of app development may get a bit higher, though it's worth it considering the immense profitability scope it provides. Moreover, it's a one-time investment that retail owners hardly make the mind of.
Conclusion:
All said and done; technology has been transformative for all business segments. Retail stores thus should learn well on how to make the most of it. Taking the above points into account, one can certainly expect a significant boost in sales in the quickest time. Most importantly, these ideas work well for businesses of all scales. Well, things are not limited to these only; one may try other methods as well. After all, innovation should have no boundary.
Tell us how we can improve?