The COVID-19 pandemic is having a particular toll on global businesses. The catering industry, in particular, has already been strongly affected and the COVID19 shows no signs of abating. With physical distancing and overall alertness in public places, people eat at home more often than they used to. American restaurants, for example, experienced a 46.1% restaurant dining decline in September 2020.
As COVID-19 is placing a tremendous strain on the restaurant industries, some catering establishments have decided on collaborating with third-party delivery services like UberEats and Postmates. However, building your own restaurant mobile app comes across as a more beneficial option for your restaurant. Read on to find out more.
Why UberEats And Other Third-party Food Delivery Providers Are Not The Best Options
The primary reason why turning to such services is counterproductive for your business is that such providers weigh their benefit over yours. Here are some other vital reasons why business owners pivot from dealing with UberEats and other providers.
Fees
With marketplace and activation fees, ranging from $15 to $30, there is not much left for your business. Third-party delivery apps might be convenient, but they eat up a juicy premium. So if you have already done some back-of-the-napkin math, you are well aware of the biggest con.
Thin margin
The most logical way to increase your profit would be adding 30% to the meal cost, thus obtaining the same earnings. However, due to the firm charging policies, all your dishes should cost the same both online and offline. As a result, restaurants lose their money partnering with third-party providers.
Unreliable delivery
The delivery fee does not equal a safe delivery. There have also been some incidents of ill-behaved delivery with some delivery guys tasting ordered food.
In-house Platforms vs. A Restaurant Ordering Application
With all that being said, let's enlist the pros and cons of building a restaurant app and using delivery platforms.
Costs
As it has been mentioned, food delivery platforms have fees that range from 15% to 30%. It may seem like a modest amount, but this can grow up into millions and millions on a business scale.
Responsibilities
When you turn to a food delivery platform, you are in charge of placing meals, images, and prices. Marketing, technical support, and delivery nuances, on the other hand, are the focal area of the platform.
However, as you decide to commit to your own app, your responsibilities grow. Delivery and couriers, in particular, are your concerns now. Usually, it means that the importance of courier training and hiring the right employees increases as well.
Target audience
The main con of partnering with food ordering services is the low acquisition rate. New customers will likely forget your restaurant name as soon as they get their order.
However, when using a mobile food ordering app, you keep personal customer information in your database. Therefore, you have an effective tool for expanding a community of loyal users around your restaurant business.
Must-have features for your restaurant app
Ordering apps cater to three kinds of audiences: restaurants, couriers, and clients. Therefore, you need different functionality for each target group.
Customer app
To find their way around the app, customers need the following features:
Sign in. Before placing an order, the customer should sign up for the platform via email. Social network login is perfect for a more seamless experience.

User account. The user profile should feature personal details, such as name, email, phone number, and address.

Search feature. The user can explore meal options through a search bar and meal name.

Classification system. To make your search more simple, include several categories like Breakfasts, Desserts, Vegetarian, etc.

Ordering form. The order page features a thorough description of meals, photos, and prices.

Checkout. To simplify the checkout process, you should use a 1-step checkout and include various payment options.

Delivery tracking. The customer can view their order and track the courier location live.

Top meals. Your customer can save meals into favorites to re-order within mere minutes.
Restaurant app
The following features are basic to include in the restaurant mobile app:
Menu management. You can update existing meal categories and descriptions, add images and ingredients, as well as include prices.

Order management. This feature allows you to confirm or reject new orders and update the order status.

Live-chat. If you have some questions concerning the order, you can reach out to the customer directly.

Delivery requests. To make the delivery, you can create a new delivery request, and the platform informs couriers in the area.
Courier app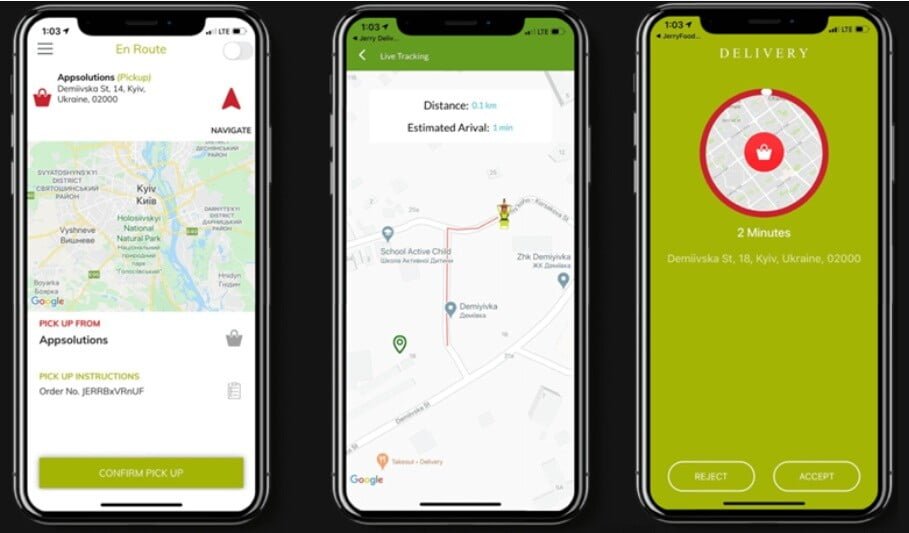 To make a successful delivery from point A to point B, the courier app needs the following staple features:
Delivery requests management. The courier can approve or reject new delivery requests. After the meal is delivered, the couriers update their status to Completed.

Order information. Once couriers accept the order, they get access to order details and delivery addresses.

The total of orders. This feature includes the list of completed and upcoming orders.

Integrated maps. The app locates the shortcut to the customer's delivery address.

Delivery tracking in real-time. The app tracks the courier whereabouts via a GPS module, integrated into the portable device, and shows it on the customer app.

Delivery time. The delivery time is automatically estimated and counted down in real-time.
Developing a mobile ordering app for restaurants: the final word
While most restaurant businesses fritter away 30% of their profit margin by using third-party restaurant apps, others pare down their costs by opting for a restaurant app development. First and foremost, featuring your restaurant on an on-demand delivery platform will help your business get through the second wave of coronavirus. And as some countries are reimposing COVID 19 restrictions, a delivery app is a great long-term investment during these uncertain times.
Related posts:
Was this content helpful?