Artificial Intelligence has a significant role to play in how mobile app development happens. It also ensures that users receive an immersive experience when interacting with the app. This is because, with the presence of five million apps in the market and the profitable value AI has, of around $126 billion by Statista, channeling the use of this technology has a fruitful proposition indeed. It has the capability to ensure that mobile apps act smarter.
In the lines below, we discuss how the technology performs the task of creating smart mobile apps. Before that, I will first introduce you to the concept of AI.
Introducing You to Artificial Intelligence
Artificial Intelligence is a recent technological innovation that uses real-time data of users to perform tasks like voice recognition, ensure utmost data security and allow businesses to ensure accuracy and perfection in data apart from automating the way daily tasks get performed for users.
All these factors have thereupon been responsible for the technology attaining so much popularity in the first place. Look at the graph below to take a peek at the profitable nature of this technology.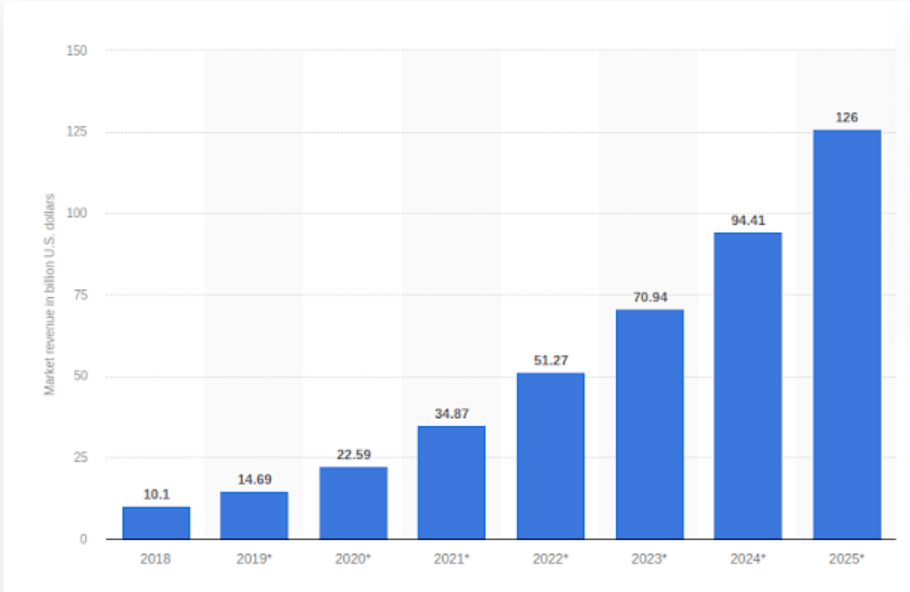 The graph above depicts the overall growth that is predicted to take place in the profits by 2025 in the global AI software market. Through it, you can understand that including it within your mobile app will certainly ensure that users in the largest percentage remain engaged with it.
Hence, if you have yet not used it within your mobile app, make sure you do it now. Doing so will allow you to make your mobile app smarter.
Want to know how? Read the lines below.
How AI Assists in Making Mobile Apps Smarter?
Boosts Security Level
With AI, it becomes easy for apps to get information on occurrences of any forms of anomalies when users enter an app. Therefore, it is a smooth task to prevent threat perceptions and vulnerabilities. Finally, the authentication process and the overall user experience remain seamless on the whole.
Hence, on the whole, channeling the use of this technology will allow for assessing different security risks even before they occur and prevent them from taking place in real-time.
Predicts User Behaviour
Spotify, a popular on-demand music platform uses AI to predict the user's behavior based on the search they place on it. It assesses the search results of the user and then goes on to deliver customized playlists and content such as new releases.
Thus, in very simple words, it enhances the overall user experience and keeps the user engaged with the app for a very long time.
This is something many retail apps make use of too. Amazon for instance and on demand taxi booking app like Uber use AI to connect customers with products they would purchase and provide up-to-date information to drivers related to the road, which includes information related to potential traffic jams, road conditions, and so on.
Automates Complex Issue Resolution
AI empowers mobile apps to perform tasks like solving puzzles, proving scientific theories, and so on. This is through the utilization of logical and analytical reasoning respectively.
Hence, it becomes easy to perform different tasks such as market stock trading, understanding the expected time of arrival to a particular destination, determining the estimated fare, and so on. Therefore, all in all, AI allows the user to enjoy a convenient experience when operating a mobile app so that different complex issues become easy to resolve.
Accelerates Language Translation Pace
With AI-enabled translators on the mobile app, it becomes easy to translate various languages in real-time even though an internet connection may not be present.
Since the technology channels machine learning, hence it becomes easy for apps that have AI-translators within to learn different dialects and get them translated.
Therefore, communication with users globally becomes streamlined and easy. This is something that has been observed on the Chinese Search Engine Baidu. It uses AI to innovate the way users perform tasks like reading news, viewing videos, and so on.
Improves Search Engines
With AI integration within the mobile app, it becomes easy for users to easily locate the items they are in search of. This is a boon in disguise for those who may not be aware of the right word to introduce the product or may not know the techniques to find the product.
There are two ways through which users find it easy to locate the items they are in search of when AI is integrated into the apps, one being visual recognition and the other being voice recognition. These two forms make it easy for users to find the items they are in search of.
Analyzes User Behaviour
AI-capable processors in the apps help it to seamlessly study the behavior of users on the app in real-time. This helps to enhance the overall user experience.
Through the presence of nudging buttons present in the app, navigation becomes easy to perform. Also, app interaction gets streamlined.
Create Recommendation Services
As you may have observed in many eCommerce apps, there is an option "Customers who purchased this also purchased" with different product suggestions.
This is something the integration of technology has made possible. With it, the customer retention rate has gotten boosted. Also, it has become a possibility to achieve more conversions.
The process of providing recommendations is simple. The app gathers data on users' choices and places it on the learning algorithm. This makes it easy to offer product recommendations to users. This ultimately ensures that more purchases happen.
Streamlines User Query Resolution
Many apps today have AI-powered chatbots so that query resolution becomes easy to provide to users. This saves on costs enormously in hiring a customer service team.
Hence, when a customer types a question relevant to the tasks performed on the app- the chatbots address the issue and get resolution at an accelerated pace.
Summing Up
Reading this article, you can understand AI transforms how users interact with apps. It assists in enhancing the overall user experience and profits from the first day itself and makes the mobile apps smarter.
Also, it opens doors to a venture that keeps users engaged with the solution they developed for a considerably long time.
AI helps mobile apps become interactive so that the user experience on the app remains streamlined. Also, it provides the strength to deliver personalized experiences to users. This is while they interact with it. Therefore, when you embrace mobile app development, remember to use this technology to your advantage. This will assist you to amass profits like never before and allow a maximum percentage of users to remain drawn towards the solution developed and finally ensure you obtain maximum returns.
You may also want to read,
Tell us how we can improve?